On October 1, 2014 our online banking system required members to create a username to sign-on to online banking. This system update is just another tool Bridge is using to help better protect our members and their online safety.
A username is used in place of the account number when a member logs into online banking.  This username is used in conjunction with a password and security question answer for a higher level of security.
We cannot create a username for a member. When creating a username, select a word or phrase that is meaningful to you.  Your account number cannot be your username.   Usernames are not case sensitive and can contain spaces. If at any time you forget your username contact us.  Once a username is created, you cannot use your account number to access your online account.
Please take the time to follow these steps and complete this task as soon as possible.
Log in to Online Banking
Once you are logged in, go to the Info Center menu (see Image #1 – step 1)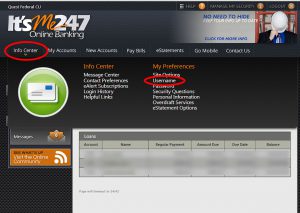 In the Info Center menu, choose the Username option (see Image #1 – step 2)
In the Create or Change My Username screen, enter a new username (see Image #2)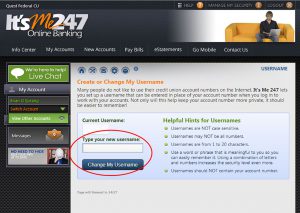 Click the Change My Username
NOTE:  Once you have entered your new username, the next time you log in to Online Banking, you will enter your newly created username.