Personal Loans
For all the little things you'll need… our signature loans are quick and flexible.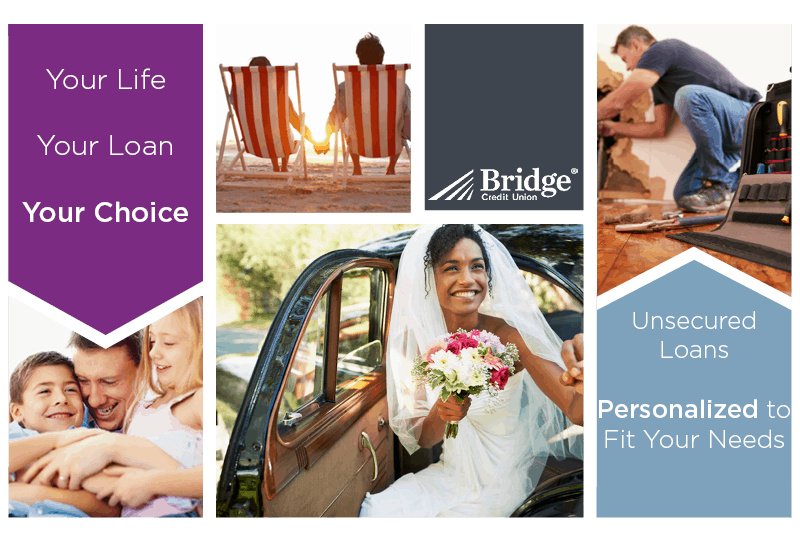 No matter what you want or need, Bridge is here to help. 
Sometimes you just need a little extra. With our low rate personal loans, you can rest easy knowing you have a place to go when you need help. Our signature loans offer the ability to access cash quickly at a low rate. Our signature loans offer the ability to access cash quickly at a low rate and with reasonable terms. We can approve, process, and get cash in your pocket quickly to take care of almost any need.
Low rate share secured loans… even if your credit isn't perfect.
Share secured loans give you the best of all worlds. By borrowing against an amount equal to or less than the amount you have on deposit, you can reap the benefits of earning dividends while paying an extraordinary low rate for your loan (rate is determined based on the current dividend rates being paid). Share secured loans also offer the opportunity to rebuild credit. Our lending qualifications for these specific loans allow for less than perfect credit.
APR=Annual Percentage Rate
All loans subject to credit qualifications and approval. Minimum credit score required, not all applicants will qualify. APR will vary based on credit score, payment method, due date, and document preparation fee. $175 pre-paid finance charge will be charged upon acceptance of the loan. Other restrictions may apply. Other terms and conditions may apply. MESSAGE & DATA RATE CHARGES MAY APPLY. Bridge assumes no liability for any costs associated with text messages. Offer subject to change at any time.
We make the loan process easy
Whether you want to apply for a loan at 2 a.m. from the privacy of your home or call us during business hours and talk to our loan officer, you can do it. We make it easy to apply for a loan.
Online or mobile – anytime or anywhere.
Give us a call at 800-434-7300, option 4
Stop by and apply in person
Sign your loan online, get your funds quicker
E-sign with Bridge, our electronic signature option is the easiest way to sign, it's fast and safe.   Get your money faster when you e-sign. 
What is "e-sign" and how does it work?
DocuSign is an electronic signature web-based software, which allows contract signers to provide an e-signature to contract documents.
DocuSign simplifies the signature process, saves paper, and cuts the time until disbursement. The signatures are legally binding, so we can fund your loan as soon as the contract has been e-signed.
You'll also be able to download a copy of your loan documents on demand, during or after the signing process. And, all parties will be notified by email when the loan documents have been signed by all parties.
ConnectMORE
Get more value out of your membership with ConnectMORE. The more services you use, the more rewards you get such as lower loan rates, higher savings rates, and other great perks.
Learn More