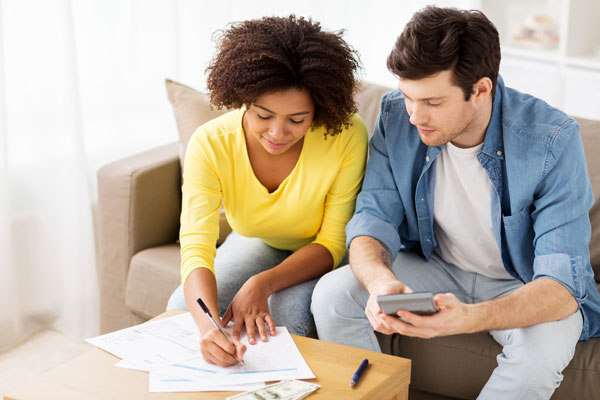 As the weather starts to get a bit warmer, you might be thinking about spring cleaning in your home. It's time to chase away dust bunnies, clean up lesser-used rooms and run a few boxes of unused items to Goodwill.
While you're at it, you might want to take time to spring clean your finances with these eight steps:
1. Start with your budget.
Since your budget – or spending plan or whatever you choose to call it – is probably the most important piece of your financial planning, start here. Take an afternoon to go over your spending during the past few months.
Do you notice any problem spending areas? Or are there any areas where you're budgeting more than you need to? Adjust your budget accordingly.
While you're at it, see how well you've been sticking to your budget. If you find yourself constantly tweaking your budget throughout the month, you're spending too much time on it! Work to simplify your budget by creating fewer, broader categories. You'll still keep your spending in check, but your budget will take up less head space.
2. Clean up your accounts.
Now is a great time to consolidate accounts, get rid of unused accounts and toss dusty, old checks and statements.
If you have multiple bank accounts open that you rarely use, consider closing some. And if you've been unhappy with your bank, now is a great time to switch.
While you're at it, check out your retirement accounts. Many people have at least one retirement account from an old employer sitting around. Instead of dealing with multiple 401(k) accounts, consider rolling old accounts into new ones to streamline your retirement savings.
3. Opt for less paper.
Most accounts these days – whether checking accounts, utility accounts or student loan accounts – have a paperless billing option. Not receiving all those paper bills in the mail (especially if you log online to pay bills, anyway) can cut back on those piles of paper taking over the kitchen counter.
Take time this spring to opt for paperless billing wherever possible. Your clutter piles – and the environment – will thank you.
4. Check your withholding.
Tax return checks seem wonderful. But if you received a big return this year, it just means you gave Uncle Sam an interest-free loan out of your paychecks throughout the year.
When setting up your withholding, your goal should be to achieve a balance. You want to get as much as possible in your paychecks without owing the internal revenue service money when you file taxes. So adjust your withholding as needed to get to this point.
5. Create a home inventory.
If you have homeowners or renters insurance (which you should), you need to have a home inventory of all your possessions. An inventory will make it much easier to replace your items in case of a disaster.
So if you don't have an inventory, it's time to make one. Take photos of most of the items in your home – especially big-ticket items such as electronics and furniture. Then, write down the approximate amount that you paid for the item, and start saving receipts for new items you bring into your home.
6. Shop around.
If it's been awhile since you shopped around for better rates on your car insurance, cable, cellphone plan or other recurring items, now is the time. You should be shopping for better rates at least once a year – preferably twice – to ensure you're not overpaying for services.
7. Check up on insurance coverage.
When was the last time you reviewed your homeowners or life insurance policies? It may be time to give your insurance a check-up.
Pull copies of your policy documents to ensure you have adequate coverage. You may, for instance, need to upgrade your life insurance if you've recently had a child or received a significant raise (since life insurance coverage is normally based on your salary). As housing construction costs rise, you may also need to upgrade your homeowners insurance policy to ensure you could rebuild in case of a total loss.
8. Sort out paperwork.
This step is great for spring cleaning both your home and your finances. Take time to sort through your paperwork and files, and shred the documents you no longer need.
For instance, the federal government recommends that you only need to keep bank statements for a year, and you can discard tax documents (and their supporting records) after seven years.
Just be sure you adequately shred any documents that include personal information.
Article courtesy of U.S. News.com